May I please...
...ask for a favor?
I'm not good at this; the act of self-promotion. Half the time I don't even tell people I have a blog, and when I do I feel almost embarrassed by saying it. But, this is a special case.
See, I've had the honor of being nominated for a Most Valuable Blogger Award here in Sacramento. I stumbled upon it quite by accident the other day and was totally shocked. Me? Up for an award? On an official website (a CBS affiliate, no less)? It's crazy (no pun intended).
What's even more of an honor is that it was one of my local readers who nominated me. (Thanks,
Erin
!) I feel happy (and, strangely, slightly embarrassed) beyond words.
So I'm doing some shameless self-promotion here. If you like my blog and think I'm worthy, would you consider voting for me? It takes only a few seconds (no sign-ups required). You can vote once a day through September 9th. Here is the link to vote:
Vote for Crazy for Crust in the Most Valuable Blogger Awards Sacramento 2011
(It's in the Lifestyle section.)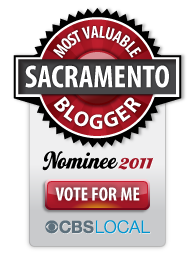 I'm up against some other awesome bloggers in that category. I want to thank you for taking the time to vote for me.
I've also added a badge that links to the voting site over there on my sidebar. That way when you come to read my fabulous content, you can just click-through over there. (Wink, wink.)
Thank you again! I had hoped to have a great recipe and some witty zucchini-monster stories today, but with Jordan starting school last week it's been a bit crazy around here. See you with a few new recipes next week!