Frosting for the Cause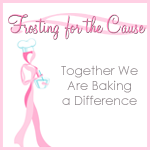 Today I'm not here. Today I'm over
here
, at
Frosting for the Cause
. Have you heard of this wonderful site? I came across it last spring and as soon as I saw it I knew I needed to join in to bake a difference.
Cancer touches all of our lives. Everyone I know knows someone who has been touched by cancer; either personally or in their family or family of friends. It's time that cancer becomes one of those diseases of the past; one for which you realize you have it and go get a shot and poof, it's gone.
I made Zucchini Bars and shared them with a local Breast Cancer Support Group.
Click on over
and read all about them. And then check out the
Frosting for the Cause
site. I can guarantee you will be inspired. I certainly was.
I know that making some yummy treats to brighten someone's day won't cure cancer. But it's something. And when you put a bunch of little somethings together, it can become something big. And maybe that "something big" will finally be a cure.

Thank you to Frosting for the Cause for all you've done over the past months and will continue to do. You are an inspiration.

Happy Thursday everyone!
Labels: Frosting for the Cause